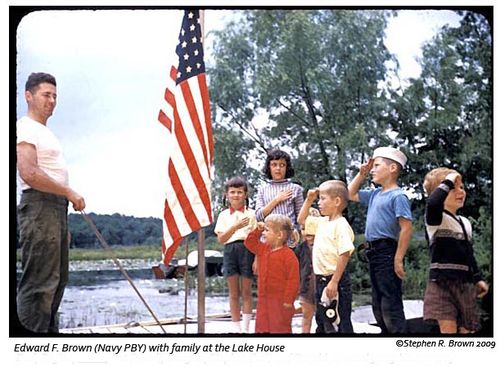 I was out sailing this weekend and when I am on a boat, I think of my father.   Like many WWII Veterans, he never made a fuss about his Navy military service either before the war on a Destroyer between Sand Francisco and Pearl Harbor or during the war in Brazil.  He used to joke that in Brazil, he "learned to sail and dance".  In fact, he was part of the effort to keep Brazil neutral and to also get planes across the Atlantic to Europe (Brazil to Africa and then North to Europe being the shortest route).
He instilled a sense of patriotism and service in his children and whenever I look at this picture, I am moved.  His name is inscribed behind the inspection plate on one of the eagles and when i am at the Memorial, I always think of him. He didn't live to see the Memorial erected but he was an avid fan of construction and would have loved to watch the Memorial being put together.
He was generous, adventuresome and never saw a situation that he didn't make better.  He also loved boats, the water and made sure we knew boating.  My three brothers went to the New York State Maritime academy and my brother Douglas is one of a few select "Docking Pilots" in New York Harbor.  When you see the Queen Mary sail under the Verrazano or an aircraft carrier being docked, he's usually at the helm. My brother Daniel is the Commodore of the Manhasset Yacht Club and has a 42 foot classic yacht.  Christopher, the youngest, has a small fleet of boats which he keeps about one half mile from where this photograph was made.
**this image was scanned from a 1950's Kodachrome slide.