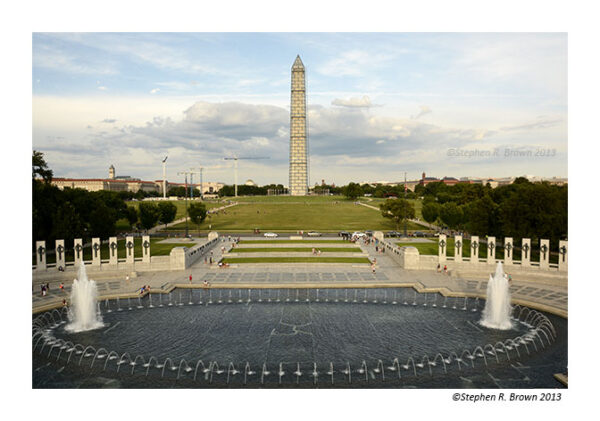 As I frequent the WWII Memorial visiting Honor Flights or wander the Mall to the various bookstores, I am always looking for new "opportunities".  Because I print my books in small quantities, I can constantly change and improve them with new photographs.  I had noticed the cherry picker/"man lift" that Hayward Baker and Clark Construction had on their building site but it didn't look like it was ever going to be in a good position for a photograph.  Who could be that lucky?
I did take the opportunity to speak with Scott Orr of Hayward Baker  and ask about the process they used to repair the Memorial.  They built an enormously sophisticated curtain wall of concrete to keep the ground water out of the pump rooms of the WWII Memorial.  They brought their own portable concrete plant to achieve a perfect mix of concrete on demand. The drill bits spin out concrete mixtures at high pressure and run directly into bedrock.  A state of the art fix for a historically difficult area.
So as we are discussing all of this, the crane is dead center between the Lincoln and Washington. Ah…. Serendipity!  These little opportunities are very difficult to achieve.  The Washington Monument  just looks great in its current state.  Now I have to find out how to photograph the same scene when they have taken down the scaffolding!  Hmmmm….