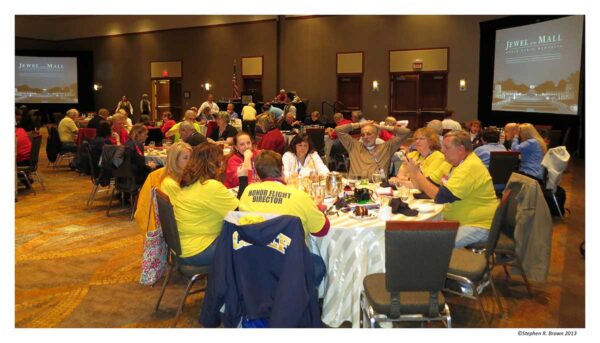 The Honor Flight Summit held at BWI airport this weekend was grand!  If you were tasked with finding the nicest people in the United States, using Honor Flight as a filter would certainly bring the cream right to the top.  160 plus hub leaders and volunteers gathered to discuss solutions and issues around moving elderly veterans to both the WWII Memorial and Korean War Memorials. Time grows short!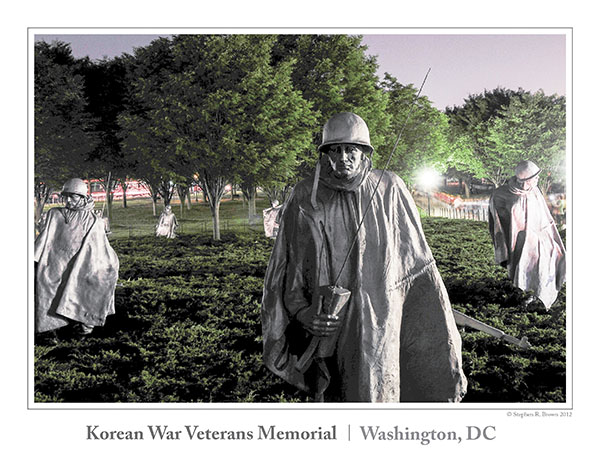 We had the opportunity to introduce the newly arrived and revised  DC PHOTO BOOK.   This new book was designed and photographed with Honor Flight's transition to Korean in mind.  To complement the book,  Jane is designing a "slip in" poster (above) as a "free gift" to Korean Veterans who receive the book.  The sculptor of the Korean Memorial is currently embroiled in a legal controversy with the Post Office and so we are giving the posters away to prevent any copyright issues.  We look forward in a new edition to expanding the Korea section of the book.  Please contact the studio for details.  DC PHOTO BOOK is also an inexpensive way to reward your guardians for their service and remind them of the day. At our price, it's about one percent of the cost of what they donate to be guardians!
Home Front
Honor Flight Austin Texas has developed a "Home Front" program where volunteers visits veterans unable to fly.  As far as I know, most hubs send books to the veterans unable to fly but Austin has developed a program where a few people show up and give them a book and a challenge coin.  It's nice to see the program formalized and my books in the hands for which they were intended. Thanks to Allen Bergeron for these pictures.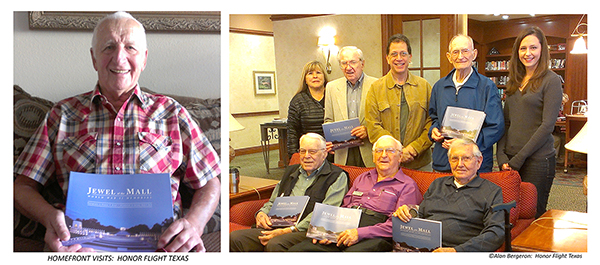 Not a day after returning home to Missouri, Jim Tayon and Rolando Lopez drove a couple of hours through a blizzard to visit with Bert Marsden a 95 year old veteran who survived the Bataan March.  It's this kind of service and care for our elderly veterans that distinguishes Honor Flight volunteers.
 Construction at the WWII Memorial
Yes, it's true. The WWII Memorial is leaking. According to a very well-placed source, ground water (and not the adjacent reflecting pool) is seeping into the pump room and disabling the fountains.  It will be a couple of months before construction begins and I am waiting for an official statement from the National Park Service.  We will keep you updated on the developments.  Meanwhile, the Memorial still looks great and I am a firm believer that if you went through WWII, you'll understand a little construction.  They rebuilt the country in a short time so hopefully the Park Service can do the same.

 I will be posting a separate page under "Photo Tips" on the Stephen Brown Studio page with places which I think are suitable for group photos.