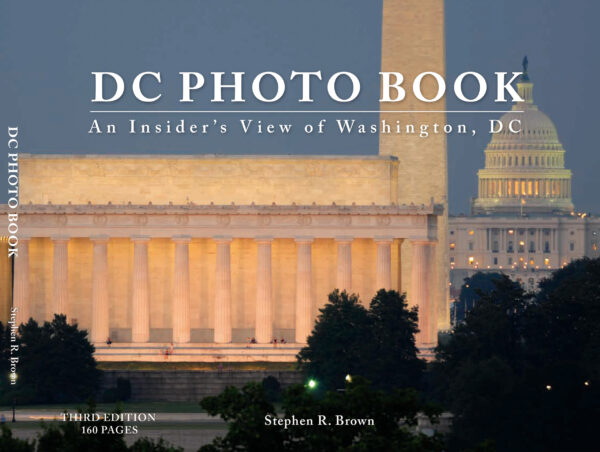 DC PHOTO BOOK: THIRD EDITION
It was a great treat to heft the weight of the new DC PHOTO BOOK.  At 160 pages, it might have been subtitled: "A Veterans Guide to Washington, DC"..  The book will be distributed through the studio and through Honor Flight hubs.  With the transition from WWII to Korea and Vietnam by most of the Honor Flight hubs, the additions to the new book include two page spreads on
The Disabled American Veterans Memorial
The new Smithsonian African American Museum-Eighteen more pages on the WWII Memorial
Ten Pages on the Korean Memorail
Ten Pages on the Vietnam Memorial
Two more pages on the Women in Military Service to America Memorial
Four more pages on Arlington Cemetery
a page on the Navy Museum in the Navy Yard….rarely visited but quite beautiful
a page on Steven F. Udvar-Hazy Center near Dulles
I took the opportunity to use all new images and present many images that had never been seen before. The changes are significant enough to label it a completely new book by the Copyright Office.  I've kept the cover because it is iconic Washington.  The back cover was changed for one of my favorite views of the WWII Memorial in the evening.


Amerian Disabled Veterans Memorial below
Taken while the WWII Memorial and the Washington Memorial were under construction
Colonel William Webber of the Korean War Memorial Foundation was able to negotiate permission to finally make some images of the Korean Memorial.  I am very pleased!