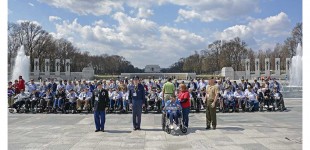 Chicago Honor Flight arrived today with 93 veterans. As many of the guardians are from our elite corp of DC Volunteers, Chicago doesn't need to fly out as many guardians. Mary Pettinato has a team of volunteers who are consistent and know the drill. Chicago's local coordinators are Renda Overbo and Deb Stevens who make all the DC arrangements and coordinate all the volunteers.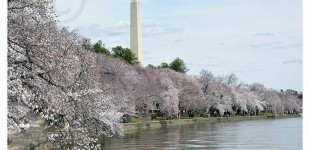 After much waiting and testing and waiting, Spring has arrived in Washington and the first real bloom began to show today. I believe peak will be Saturday and Sunday around the Tidal Basin while some areas like Arlington Cemetery have already begun and it's time to get over there and make some pictures. You can see more of these images at the PHOTO LIBRARY.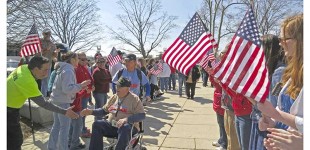 As I walked along Homeland Drive, there were hundreds of veterans loading and unloading and the promise of more to come. As I walked into the Memorial Plaza, Rochester Honor Flihgh had a great jazz band playing and it was a spontaneous celebration of Spring.