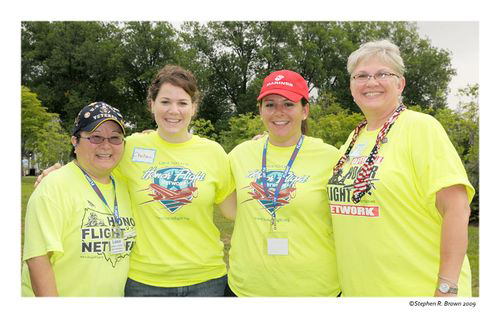 Tomorrow may be our last tent day for the Honor Flight season. We have two tents bundles rented and 3 hubs scheduled to use the tents as shown on Diane's HF schedule and I have volunteers to staff it.
I am not sure about the 7th of November. I don't know what the funding looks like. I did put a call out to three services (Army, Air Force and Navy) and they said they would try to send me people to assist us unload the buses so it sounds like we will have servicewomen and men to support us on the 7th of November down at the WWII Memorial.
I have enjoyed working with all the Hub Reps, Hub Directors and group captains. You all inspire me and I really respect how hard you ALL have worked to bring the WWII Veterans safely into DC to see their Memorial. I appreciate how hard Jim, Judy, Carol, Diane and Tom work to provide the behind the scenes support. An earlier email a couple months ago was sent out by me and was totally misinterpreted. I have always felt that you ALL work hard – have put in your sweat, blood and tears and you all are tall in my eyes for what you are doing.
I very much appreciate how Stephen Brown has given cases of his books to all three of us coordinators to give out to all the volunteers. Ace, you are awesome and to see how you support us everywhere with water and lunchboxes – tires me out. Paul Henzy – thank you for giving us discounts and free July usage of the tent and sidewalls when you realized how tight our budget is. All of you, I have enjoyed working with and when Diane Sinclair asked me to be a Tent Coordinator last year – I felt honored to be part of your group and to be given the opportunity to serve the WWII Veterans in what little way I could.
But the best was my gang! Holly, Cathy and Randy, Pam, Alexis, Katie, Rachel and Robin all stepped forward this season to be Tent Coordinators every month  and saved my hide! I don't know how Diane did it last year and the year before – superwoman.
Thank you all. I am officially resigning as the Honor Flight WWII Memorial Hospitality Tent Volunteer Lead Coordinator. I asked Earl to take my name off the HF website so people will have to be redirected to HF HQs for information. 7th November will be the last day I coordinate the volunteers at the WWII Memorial.
I love working with Carole Cloyd who is with USAIR and will continue to support her with the Honor Flights the rest of this year and when needed the 2010 season.  I have also been priviliged to work with Judi and her Dulles Dream Team and will continue to do so as long as she leads us.. She has done so much at Dulles Airport and has put enough hours in to count that as another full time job.
Thank you all and  I feel such a deep felt thankfulness to my team – if they hadn't stepped up to commit themselves we would not have been able to support you with tents this  HF Season. I will be in touch.. Be Blessed.  Lona