About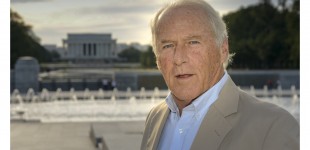 Stephen R. Brown is a professional photographer, writer and publisher based in Washington, D.C.. His images and articles on photography have appeared in Smithsonian, Life, Newsweek, Time, Fortune, The New York Times, National Geographic Books, Broadcasting & Cable, American Photo, Photo Techniques, etc. His photographs have been exhibited in solo shows throughout the world. Most notably, they were featured in "
Indelible Images: 100 Years of War Photography
" and "
Odyssey: 100 Years of NGS Photography
," both of which were initiated at the Corcoran Gallery of Art.
Brown has taught photography, digital imaging and related software for American Photo Magazine, the Maine Photographic Workshops and as an Assistant Professor at American University in Washington, D.C.  A member of the White House News Photographers (whnpa.org)  Association, Brown has in recent years produced three books: WWII Memorial: Jewel of the Mall, DC Photo Book: An Insider's View of Washington, D.C. and Tidewater: The Chesapeake Bay in Photographs.  These books can be found both on the Apple and Amazon publication platforms as well as in print.  Samples of the books can be viewed free at Issuu.com.
 An Amazon Author's Page keeps track of books as they are produced and transferred to both the Kindle and Apple formats.  Jane Howitt's graphics have broken new technological and design ground  by making the print to electronic transfer in the form of "fixed-layout" eBooks.  The" fixed-layout" format preserves the original design and spirit of the printed book.  On the Apple platform, we have added an excellent and moving video done by  Honor Flight Chicago and Reference links within the books to sources of material outside srbphoto.
Forty-two of his images of the Chesapeake Bay were featured at the Annapolis Maritime Museum Spring 2012.  The revised edition of the WWII Memorial book arrived mid June 2013 and is available through the studio and Amazon. It is also available at stores on the Mall operated by both
Eastern National
and
Guest Services
.  In June 2013, ninety-two of his images from the WWII Memorial will be on display at the
Women In Military Service to America Memorial
.  The exhibition is sponsored by
Friends of the National WWII Memorial
. Full versions of Stephen's
BOOKS
can be seen at
ISSUU.COM
.  The studio below is used for portrait ando product photography.  It even has parking!